Wood Buffalo Regional Library is committed to reaching our community members where they are!
Whether you are unable to visit us in person, or simply enjoy seeing us when we're out and about, we have options for you!
You can also request we visit your school or community event.
Can't visit us in person for medical or physical reasons? No worries! We deliver to you with our Homebound Delivery Service!
Extended loan periods
We visit Rotary House weekly and generally patrons at their house once per month. We offer flexibility to meet our patron's needs.
To sign up for this service, please contact us at homebound@wbrl.ca or call 780-743-7800 and ask to speak to the Homebound Lead.
Homebound Delivery FAQ
Our Homebound service delivers any of our WBRL materials to our patrons/residents who are unable to access our facilities due to medical, physical, or visual issues. We bring the library to you! Deliveries are weekly.

It doesn't cost a thing! Our Homebound service is free of charge for individuals who cannot visit our facilities (e.g. Medical reasons, disabilities, illness, severe arthritis, heart conditions, vision issues, etc.).

No, our homebound service is not limited by age. Anyone who can't physically use our facilities can take advantage of this service. (mobility, health, vision, etc.)

Volunteers and library staff will choose materials based on individual profiles; patrons can also make requests. Interlibrary loans can also be used to access materials province wide. We work hard to get you materials that match your specific interests and always take suggestions and requests.
Our mini libraries go into hibernation over the winter months, as of October.
We are thrilled to have 4 mini libraries in our community, thanks to a partnership with TransCanada, Wood Buffalo Regional Library, Regional Municipality of Wood Buffalo, and Fort McMurray Today.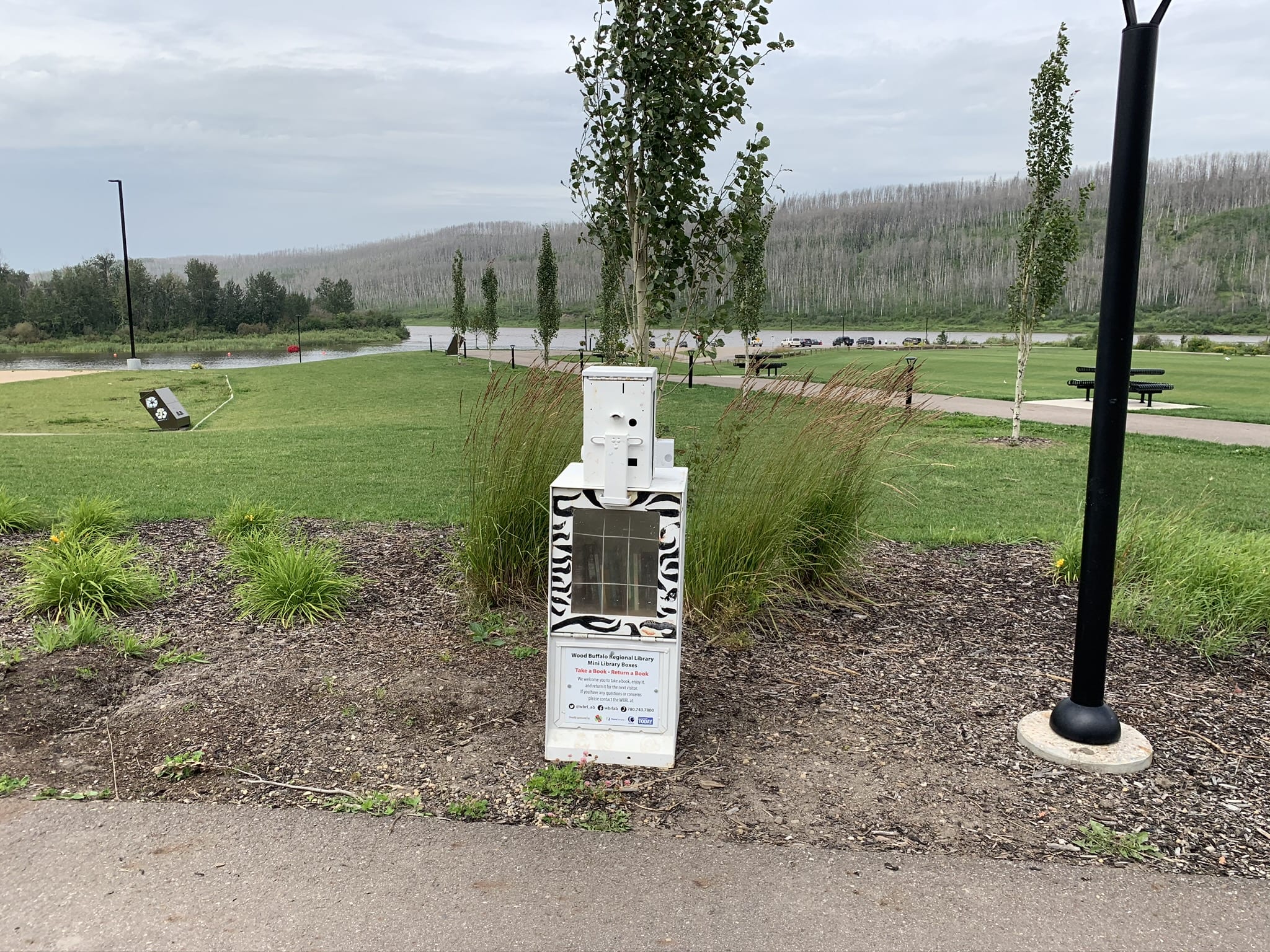 Resources to Enjoy Wherever You Are
ebooks, eAudiobooks, Magazines? Libby has it all for you! Libby is a free app created by OverDrive.
Hoopla is an all in one digital media resource that allows you to download and stream movies, music, audiobooks, ebooks, comics & TV shows.
PressReader opens a new window connects you to thousands of global newspapers and magazines as soon as they're available on shelves.
Community Outreach Programs
We also offer outreach programs on site at various organizations throughout Fort McMurray, including Centre of Hope, Willow Square, Rotary House, Stepping Stones Youth Service, and Northern Lights Regional Health Centre.
Outreach Programs are sponsored by